Reading for Research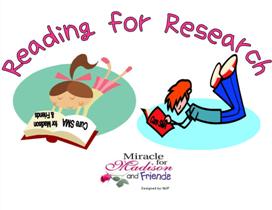 Please participate in the Friends Helping Friends fundraiser called Reading for Research. You can help make a difference in helping us find a cure for Spinal Muscular Atrophy. All you have to do is read a book or two or as many as you want and then collect pledges and sponsors for each book or each page you read. Please read the letter from Miracle for Madison & Friends before downloading the other information. Everything you need to know to participate in this event can be downloaded and printed (see below):
A memo from Friends Helping Friends
What is SMA & Why We Need to Find a Cure
You have just heard about SMA and are now wondering what that is. SMA is a short way of saying a really long word. SMA stands for Spinal Muscular Atrophy, which is why everyone just says SMA. SMA is like an illness that you can't catch, so don't worry. People are born with SMA. Kids with SMA are just like everyone else, they just do things differently. Kids with SMA use wheelchairs to move. Kids with SMA don't have a lot of muscles. Think about how big your muscles are right now and now imagine what it would be like if you didn't have any. When you are a baby, you have tiny muscles that don't work well but they grow bigger as you get older. In kids with SMA their muscles don't grow. They have little muscles because their muscles didn't get the message from the brain to grow. Thankfully, the brain isn't a muscle so kids with SMA are smart and love to talk and laugh and sometimes even tell jokes. Everything you do involves muscles like how you eat, how you move, and even how you talk. Any movement is hard when you have no muscles, so doctors are trying to find a way to make the muscles grow bigger. You can help by raising money to help the doctors find a medicine to help the muscles grow bigger and stronger so that kids with SMA can be just like you.
Please make checks payable to
Miracle For Madison OSU SMA
and please write Reading For Research at the bottom of your check.
Send to:
Miracle for Madison and Friends
6166 Enke Ct
Dublin Ohio 43017
We are so grateful for your generous support of the Reading for Research fundraiser for SMA Research.
*All contributions are tax deductible.*
Special Thanks
Chandlar Ford - $200
Mrs. Tuttle's Home Room at St. Brigid of Kildare School - $350