SMA Merchandise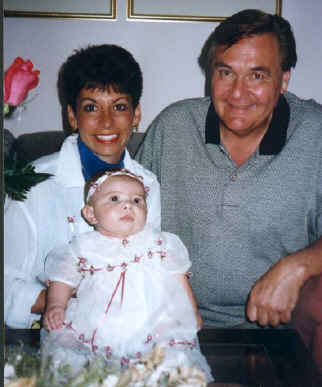 This is Madison at 4 months of age at her Baptism with her godparents, Aunt Fran and Uncle Ed. Aunt Fran is wearing an SMA Awareness Ribbon Pin made from a rose and some ribbon from Madison's dress.
The SMA Awareness Ribbon pin was created at the time of Madison Rose Reed's baptism on June 22, 1997. Leftover ribbon and roses from her gown were formed into the pins worn by family members that day.
The cream/ivory color ribbon represents the innocence and purity that our children possess. The rose stands for strength and courage: a quality that all with SMA and those affected by SMA possess. The ribbon and rose pin became a symbol for SMA Awareness in June of 1998.
The Official SMA Awareness Ribbon and pins were made in honor of Madison and all children and adults who deal with the effects of SMA.
---
---
Contact us for your total cost and to make arrangements for your DONATION. Shipping is free for every item.
Miracle for Madison & Friends
6166 Enke Ct.
Dublin, Ohio 43017

Phone: (614) 805-4600

miracleformadison1@mac.com
Make checks payable to Miracle For Madison OSU SMA Research.
---
---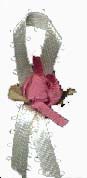 The ceramic pin was developed in March of 1999 by Margo Manhattan Jewelry, for the SMA fundraiser "Madison's Angels at the End Zone."
---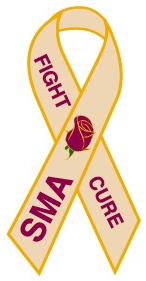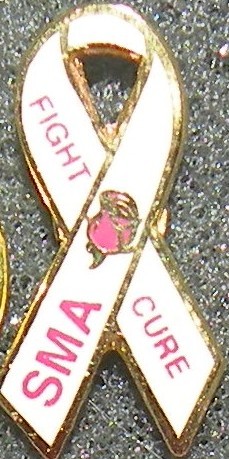 This is our new enamel pin with the words Fight Cure SMA on it.
---
The SMA wristband lets you show your support for finding a cure to SMA and make a fashion statement.
---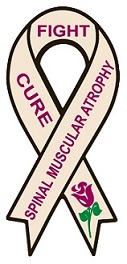 Also available is the NEW Fight SMA magnet.
---
---
Other Shops for SMA Merchandise
Official Miracle for Madison & Friends and SMA Awareness Ribbon Merchandise on Zazzle
Visit the Official Miracle for Madison & Friends and SMA Awareness Ribbon Merchandise Store on Zazzle for a wide variety of SMA related merchandise!
Miracle for Madison Merchandise at Cafe Press
Visit the Official Miracle for Madison Merchandise store and get yours today!
Be sure to check out and support the Disability Support Store, also at cafe press!